In Memory
Bobby Lockey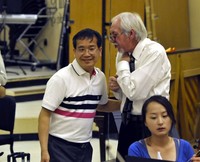 Robert "Bobby" D. Lockey, 66, of Fayetteville, passed away at his residence Thursday, May 8, 2014, surrounded by his loving family. Bobby was a retired band director at Pine Forest High School with many years of service and also taught at Midway High School. He passed on his talents to so many students ensuring that his legacy will carry on for generations to come. Bobby was well known for his talent to play the bagpipes.
Famously, Bobby played the bagpipes for the kilted Fighting Scots for many years under the direction of Mr. Stokes. This unusual talent made Bobby a real star of the band!
Eventhough Bobby never smoked or drank, he still was afflected by first throat cancer, then larynx cancer and finally lung cancer. Bobby fought valiantly each step of the way just to have as much time as he could with his family. He was truly a "Fighting Scot" !
He was preceded in death by a brother, Nelson Lockey.
A memorial service will be held in Sardis Presbyterian Church, 4654 Linden Road, Linden, NC 28356, on Friday, May 16, 2014, at 3 p.m. There will be a reception immediately following the service. Online condolences may be sent to sullivanshigland.comServices are entrusted to Sullivan's Highland Funeral & Crematory of Fayetteville
Survived By: wife, Rita Lockey, of Fayetteville; a daughter, Catherine Lockey, of Fayetteville; a son, Jonathan Lockey, and fiancée, Trinh, of Sterling, Va.; sisters, Vivian Sellars and Lynda Lou Lovick; brothers, Morrison Lockey and Jimmy Lockey; granddaughters, Gwyenth, Kayla and Kristal; and grandsons, Chad, Jacob and Brody